Over the years Groupe LFE built up a reputation as a reliable, trustworthy and secure trading partner, that adds value in the category. Our customers include nearly all the Dutch supermarket organisations, cash-and-carry stores and off-licence chains, as well as wholesalers and specialist wine retailers.
Thanks to close collaboration with our customers, we have acquired extensive knowledge of the Dutch wine market. We understand what our customers and their consumers want. Consequently Groupe LFE is in a unique position to offer wines which add value to our customers' assortments. Wines which are distinctive or with an exceptional price-quality ratio. With our professional account management team, we use a category perspective when giving advice to our customers regarding the assortment, shelf presentation and promotional support.
Food Retail & Cash and Carry
Our ambition is to develop our commercial relationships with customers into long-term partnerships. This starts with a solid belief that we all gain more by working together to achieve volume and margin growth. More and more we apply the fundamentals of Category Management. We do so by optimally aligning our advice to our customers' formula, supported by Nielsen data and other market analyses. Or by jointly developing an exclusive wine concept to meet a need within the customer's assortment. We involve the customer in developing the blend, and in the development of the label/brand or even private label concepts, together with our design agencies. Over the years we established a track record of successful concepts. Concepts which enable our customers to distinguish themselves in the market.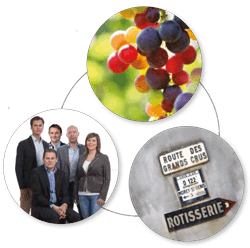 Partnership with our customers also implies that our responsibility does not end once the goods are on the shelf. For our customers, it is important that we bring our products to the attention of their customers. We support this by organizing Trade Marketing activities and by help from our Merchandising Team. Alongside merchandising and displays, we also organise promotional campaigns. And our excellent contacts with the key wine writers in the country ensure frequent coverage of our wines in all Dutch media. In short, with its extensive knowledge of the Dutch wine market, Groupe LFE offers a comprehensive range of wines from top producers, often developed exclusively for a customer and actively supported by media and in-store activities.
Marketing
One can find Groupe LFE at many important national and international wine fairs, such as Wine Professional in Amsterdam, ProWein in Düsseldorf and of course Vinexpo in Bordeaux, often with our own stand.
Our excellent relationships with almost all (wine)journalists ensure frequent coverage of our wines in both wine magazines and national daily newspapers.
Since 2012 we have been active on social media, an important and growing channel to promote our company, our producers and their brands, with our customers and the final consumer.
Specialist trade
For the specific requirements of our wholesale customers, Groupe LFE has an up-to-date and distinctive assortment of wines in various price ranges, always with an excellent price-quality ratio. Many of our wines have won awards worldwide. For some of our wines, we work with regional exclusivity and selected partners. Because our account managers often have a background in the on-trade sector themselves, they understand the consumers behind our customer. We develop point of sale material for our wines and help organizing tastings and events.
For the specialist retail trade, we also offer an up-to-date, commercial and distinctive range. Wines with a strong appeal, image and international allure – distinguishing them from what's on offer in the supermarket channel. Through visits from our account managers, as well as through our website, newsletters and e-mails, we inform our customers about the latest additions to our assortment or special promotions.
We stimulate this important channel by organizing customer tastings, giving master classes, attending (international) wine fairs and by offering regular seasonal and themed promotions.

As our customers are generally unwilling or unable to maintain huge stocks, we can deliver on any day of the week, without fixed ordering or delivery days.
Order today = delivered tomorrow!